Did you know?
One of the most difficult areas to stop heat loss and air leakage in a home is around and through electrical boxes.
---
Who wants to talk about plugs, sockets, and switches - pretty boring stuff right? Wrong!
Living in a newly constructed home with new, modern energy saving electrical boxes included can lead to energy savings!
It may surprise you, but the boxes installed around your plugs, sockets, and switches make a big difference in the energy efficiency in your home.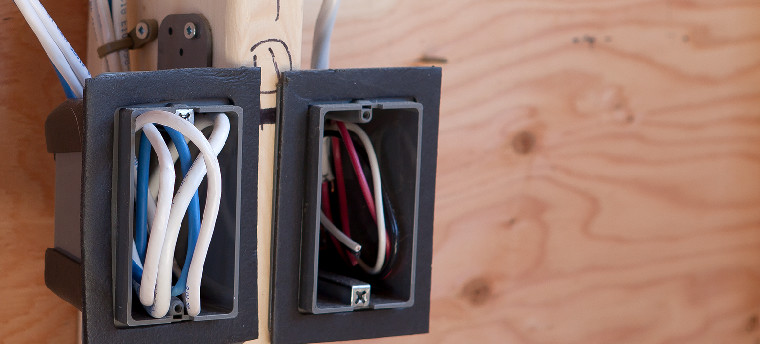 If the vapour barrier around the electrical boxes on exterior walls is not properly sealed to the side of the box, outdoor air can penetrate through the exterior wall assembly, creating drafts and allowing heat loss. Worse yet, moisture from inside your home can pass into the wall cavity, and if there are additional gaps in the top and bottom plates, then that moist air will circulate freely through the attic, walls, and floors.
Many older homes were constructed before the problems with air leakage around electrical boxes were well-known. As a result, older homes often suffer from heat loss through unsealed metal electrical boxes, leading to higher energy costs.
R2000 Compliant Boxes
Donovan Homes uses modern, plastic electrical boxes with an air gasket, originally specified in the R-2000 standard, on all of our plugs, sockets, and switches on exterior walls in our new homes. These electrical boxes are a vital part of the vapour barrier in your home, which will help minimize heat loss and maximize energy efficiency.
Energy Saving Electrical Boxes - It's like Cozy Socks for your Sockets! Buy New - Save Energy!
---
Click to learn more about all of the above New Home Energy Savers from Donovan Homes, already included in all of our new homes!